Cauliflower-Apple Fritters with Mixed Greens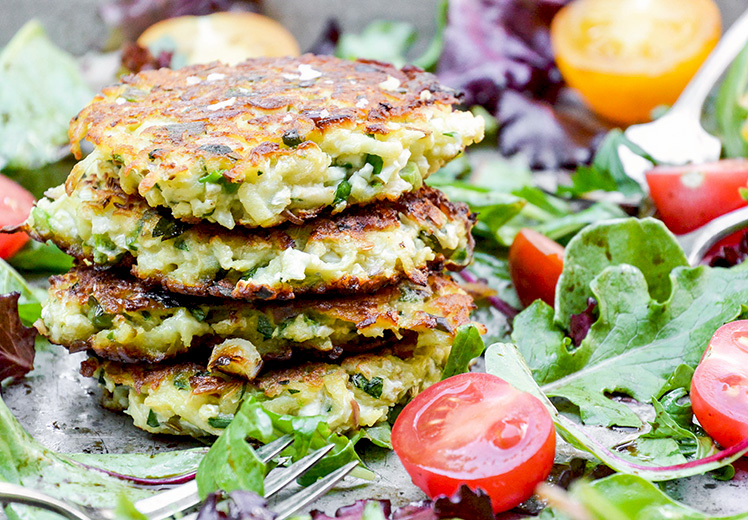 Ingredients
For the Fritters
1 1/2 cups finely diced cauliflower
1 1/2 cups shredded apple (about 1 medium apple)
4 scallions, white and light green parts thinly sliced
1/2 jalapeño, finely diced
1 tablespoon fresh parsley, chopped
1 tsp. salt
1/2 tsp. fennel seeds, lightly crushed
1 egg
1/4 cup all-purpose flour
1-2 tablespoons extra-virgin olive oil


For the Salad
Mixed greens
Cherry tomatoes, halved
Balsamic Vinegar
Extra-virgin olive oil
Instructions
Make the fritters. In a large bowl combine the cauliflower, apple, scallions, jalapeño, parsley, salt, fennel seeds and egg. Add the flour and stir until everything is well coated. Set aside.
Heat a large non-stick skillet over medium-high heat. Warm about 1 tablespoon of the olive oil. Using a 1/4 cup measuring cup, drop mounds of the fritter batter into the skillet. Flatten out the mounds slightly using the bottom of the measuring cup or the back of a spatula. Let the fritters cook for about 4-5 minutes, or until brown and crisp. Then flip them and cook for an additional 3-4 minutes on the second side. If your skillet is getting dry, add a little more olive oil. Remove the fritters from the skillet and place on a paper towel-lined plate. Set aside.
Make up the salad. I created a very simple salad of mixed greens and cherry tomatoes with a balsamic and olive oil dressing. You can use whatever salad ingredients and dressing you prefer.
To serve, divide the salad between plates. Place 2-3 fritters on top. Enjoy immediately.
1. I used my food processor with the shredding attachment to process the cauliflower and apple.